From a single part to the body-in-white structure
Ever since cars have existed, we have been developing, producing, and supplying metal parts—and, for the vehicles of today, hybrid structures—for the automotive industry. From a manufacturer of individual parts, we have grown into an internationally recognized development supplier of components and body-in-white structures.

KIRCHHOFF Automotive provides vehicles worldwide with extra stability and safety.
But we also offer our customers much more than that: we make a considerable contribution to the growth of their competitiveness.

The crucial cost and logistical advantages of our streamlined, medium-sized company structure with international presence serves a single purpose: to drive the market success of our customers and safeguard our innovative strength and earning power. This is our pledge worldwide.

30-11-23
Clear Commitment to Sustainability and Climate Protection
KIRCHHOFF Automotive and thyssenkrupp Steel Europe (tkSE) have signed a memorandum of understanding to deepen their existing strategic partnership and reduce CO2 emissions.
Both companies have made a clear commitment to sustainability and climate protection. In order to reduce CO2 emissions in the production of metal structural parts from KIRCHHOFF Automotive, they have defined certain parameters for the supply of CO2 -reduced, modern hot-forming steels from the bluemint® Steel product family.
bluemint® Steel is a mass-balanced product with a reduced CO2 footprint. The supply of this steel to KIRCHHOFF Automotive is planned from the second half of 2026.
"By using modern, CO2-reduced steels, we are taking a further step towards more sustainability in our products. The majority of our CO2 footprint is caused by the use of the material we process. By using bluemint® steel from thyssenkrupp Steel, we will further reduce this and thus contribute to climate protection," said CEO J. Wolfgang Kirchhoff at the signing of the memorandum of understanding.
Dr. Heike Denecke-Arnold, Chief Operations Officer, thyssenkrupp Steel, added: "We are delighted to be working with our long-standing customer KIRCHHOFF Automotive to make the steel value chain even more sustainable in the future. By producing and using modern hot-forming steels with reduced CO2 intensity, we are making a contribution to an environmentally friendly future without compromising on product quality."
tkSE has already implemented initial measures to reduce CO2 emissions and offers steel products with a reduced CO2 footprint based on the use of recycled scrap in the blast furnace. With this bluemint®recycled material, around 1.35 tons (64 percent) of CO2 emissions can be saved compared to conventional hot-rolled strip. KIRCHHOFF Automotive can offset the CO2 reduction on a product-specific basis in the Scope 3 category. Scope 3 emissions are indirect emissions in the supply chain that are a consequence of the company's activities but originate from independent external sources.
Compared to conventional steels, there are no restrictions in terms of product properties and qualities.
Info: tkSE, based in Duisburg/Germany, is the largest German steel manufacturer. The company's core business areas are steel production and the manufacture of flat products made of quality steel as well as the provision of services in the steel sector.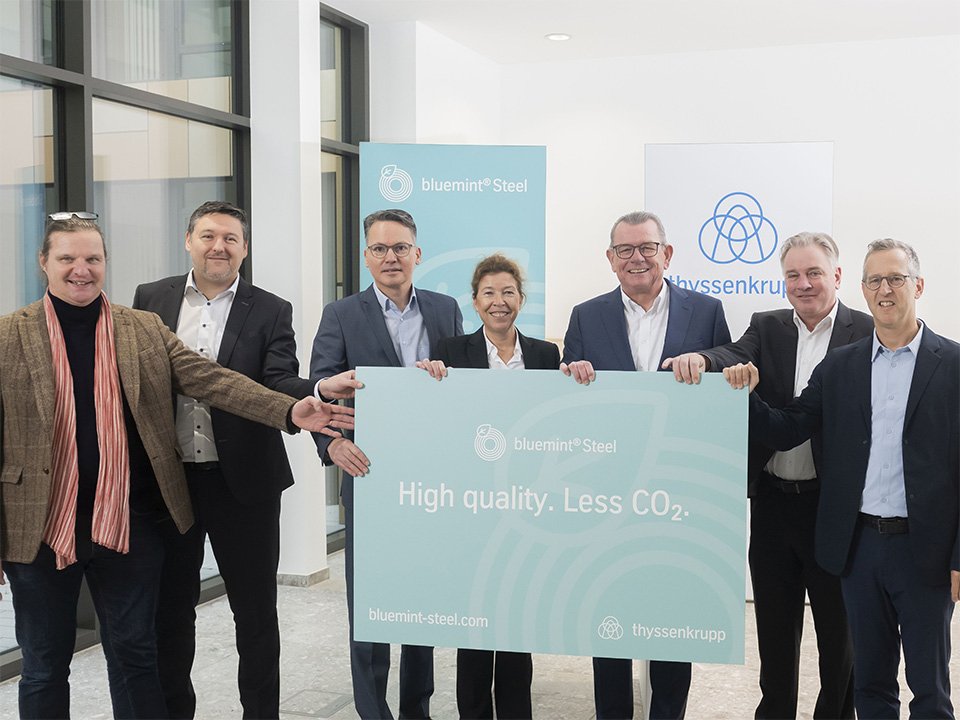 ---