From a single part to the body-in-white structure
Ever since cars have existed, we have been developing, producing, and supplying metal parts—and, for the vehicles of today, hybrid structures—for the automotive industry. From a manufacturer of individual parts, we have grown into an internationally recognized development supplier of components and body-in-white structures.

KIRCHHOFF Automotive provides vehicles worldwide with extra stability and safety.
But we also offer our customers much more than that: we make a considerable contribution to the growth of their competitiveness.

The crucial cost and logistical advantages of our streamlined, medium-sized company structure with international presence serves a single purpose: to drive the market success of our customers and safeguard our innovative strength and earning power. This is our pledge worldwide.

06-09-23
"Now I feel safer when I'm in the car"
German Chancellor Olaf Scholz has visited the KIRCHHOFF Automotive booth at the IAA Mobility. CEO J. Wolfgang Kirchhoff presented him the innovative instrument panel carrier in a shell design and a crash management system with high deformation capacity.
"The mission of KIRCHHOFF Automotive is to make cars safer," CEO J. Wolfgang Kirchhoff explained to the German chancellor. Together with the German Transport Minister Volker Wissing and VDA President Hildegard Müller, he visited the trade show booth of the medium-sized company, which has been producing since the early days of the automotive industry. The delegation was informed in detail about two of the safety components developed by the company.
One of the components is an aluminum crash management system that dissipates kinetic energy through deformation. KIRCHHOFF Automotive developed the profile together with Hammerer Aluminium Industries (HAI). What makes it special are the connection points to the side member. "In the event of a crash, the system holds without a weld seam failing," explained J. Wolfgang Kirchhoff. Therefore, he said this product is a special element for vehicle safety.
Another innovation that the chancellor took a closer look at is an instrument panel beam in shell design. "Most instrument panel beams have a tubular centerpiece, which is very cost-intensive," J. Wolfgang Kirchhoff explained. In addition to cost savings, KIRCHHOFF Automotive's product has the advantage of allowing for functional integration. For example, cables or ventilation guides can be incorporated.
"Those are the two things we are demonstrating here. Otherwise, there are many things here for vehicle safety," J. Wolfgang Kirchhoff concluded. In response, the chancellor affirmed, "Thank you very much. Now I feel safer when I'm in the car.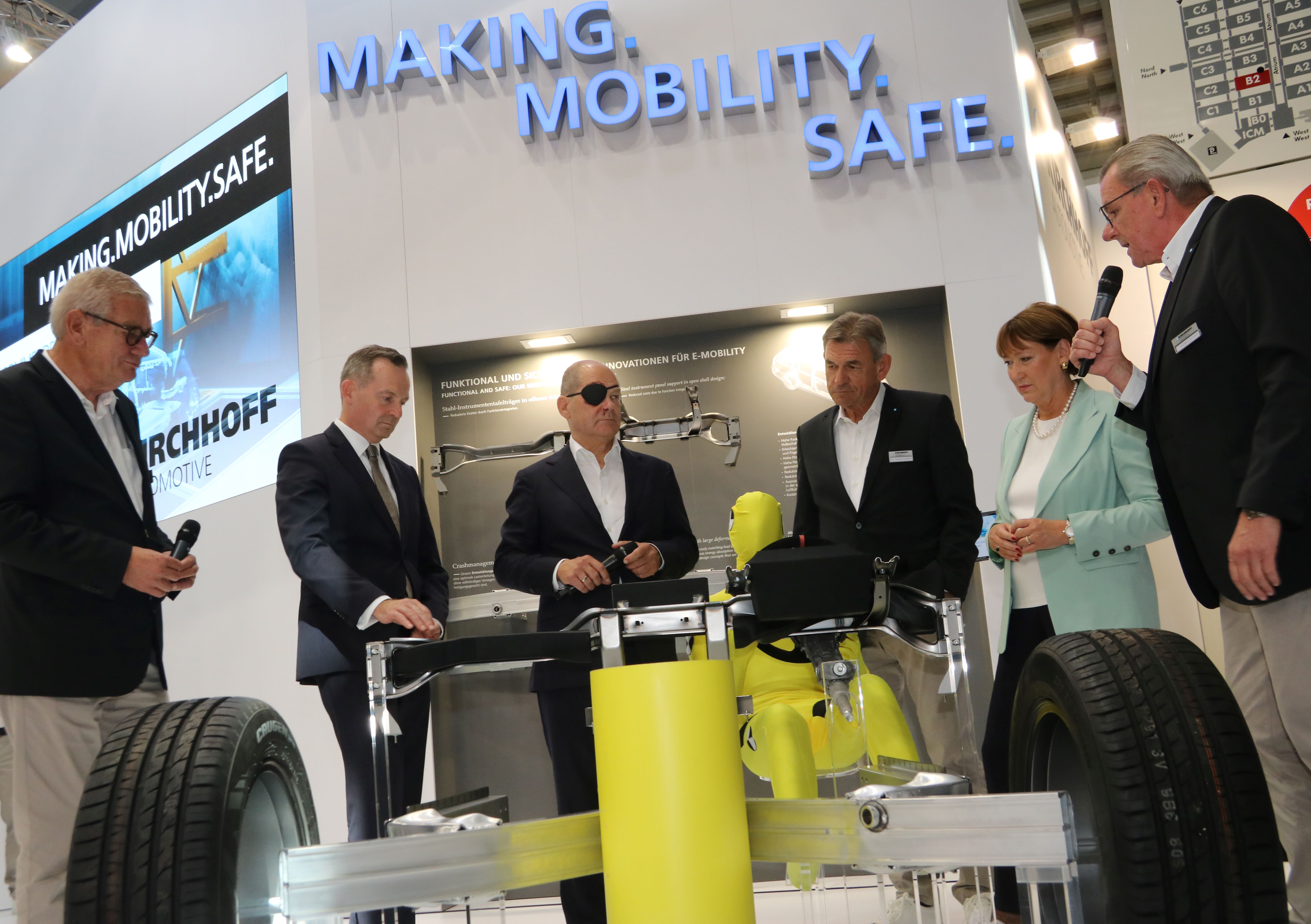 ---